The Full Fujikura Fitting Experience in partnership with Club Champion & PluggedIn Golf
Vista, Calif. (June 27, 2017) – Through our partners PluggedinGolf.com, Five lucky golfers had the amazing opportunity to experience an expert fitting from Club Champion, a 2017 Top 100 Club Fitter as rated by Golf Digest.  These golfers came in to their fittings with a variety of swings and gamer shafts, but all would leave with a Fujikura shaft that improved their drives. The results were all very positive for these five guys, some gaining as many as 45 yards being properly fit and reducing their spin. The experts at Club Champion fit three of the five golfers into the new ATMOS Tour Spec Shaft (with one golfer in each of the three flight options, one blue, one red, and one black).  The other two golfers were fit into the Fujikura PRO Tour Spec, and the PRO XLR8.
---
"The Blue ATMOS had the most consistent results, the lowest dispersion, the highest ball speed, and longest carry"
---
The Results :
After testing their new fittings, all 5 golfers quickly saw huge gains in their driving performance. Some golfers fittings including trying different driver heads to reduce spin or improve accuracy. The results of these fittings for driver shafts and driver heads (in some cases) proved to yield impressive results. The improvements were of 9, 15, 16, 29, and 46 yards off the tee respectively.  Yes, 46 yards. Combined, they had an average driving distance gain of 23 yards.  Even though driving distance is important, all of the players also saw major improvements to their driver accuracy with lower dispersion.  Two of the players cut their offline averages by 20 yards.  Another player compared his previous driver shaft where he was hitting the ball 11 yards offline on average.  After being fit into a new Fujikura shaft, the same player was driving less than 3 yards away from the center line.  All of these numbers are not only a testament to the high quality shaft line up offered by Fujikura, but the crucial importance of being professionally fit for golf shafts.
Straight to the Numbers :
Fitting data was very beneficial in highlighting the effectiveness of the new Fujikura shafts for each player.  Below we will outline some of the more significant improvements these players achieved after their fittings. Chris C. was fit into the ATMOS Tour Spec Black 6S with a new driver head and had huge gains in every category.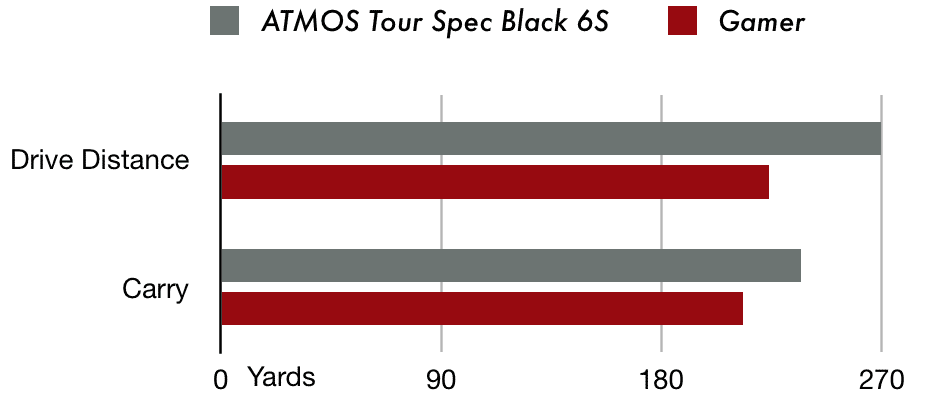 In addition to carry and total distance gains, other impressive numbers for Chris are below. NOTE: these numbers are with a driver head better suited to Chris' swing, plus the Fujikura ATMOS Tour Spec shaft.
12.6 MPH increase in ball speed (from 138.9 mph to 151.5 mph) 
Reduction of spin by 1948 rpm (4308 rpm spin rate to 2360 rpm) 
---
In Their Own Words : 
About Club Champion :
Club Champion is the #1 premium golf club fitter nationwide. Voted a Golf Digest Top 100 Club Fitter for 2017, Club Champion will ensure a great club fitting experience.  Their master club fitters will create the perfect custom fit club to your exact swing specifications.  According to Golf Digest, 8 out of 9 Club Champion customers who upgraded to custom-fit clubs lowered their scores by as much as 6 strokes per round.
CLICK HERE to contact Club Champion and schedule a fitting.  

For a list of all Fujikura Charter Dealers, check out our dealer locator here to find a location near you to get a custom fitting.